The 5 best fresh dog food brands for picky eaters
Having a furry friend that's a picky eater can be a difficult thing to handle. Not only do they hate (or occasionally love) common ingredients, they seem to change their minds every other week.
So how can we make sure our pups are eating fresh, nutritious food that they won't turn their noses up at?
Here's an overview of the best fresh dog food for picky eaters so you can be sure your dog is full, satisfied, and full of energy!
What is fresh dog food?
Fresh dog food brands provide premium, nutritious and fresh food for your pup. Many of them use human-grade ingredients, locally sourced produce, and cook all the meals in US kitchens. They're often then flash-frozen to preserve all the nutrients and minerals and sometimes sent straight to your door!
Many pup parents have decided to change their dog's diet to a fresh one because of the health benefits associated with it. They've noticed that their dogs have more energy, fewer allergies, a healthier gut, and a smoother coat – amongst many others!
For many, it's also quite alarming when you read the ingredients on standard kibble or a wet dog food label. There are lots of additives, hormones, poor cuts of meat, and a lot of chemicals that really don't sound healthy for our pets to be eating. With fresh dog food, you know exactly what you're feeding them, that it's full of flavor, balanced, and that the meals are formulated by nutritional specialists. 
But fresh dog food can be difficult for picky eaters. Especially pups that are used to eating hard kibble. It's a different texture flavor, and you can often see pieces of real fruits and veggies in it (which we owners love, but picky eaters won't).
There are a few ways to help your fussy pup change over to a fresh food diet. As well as choosing one of the brands on this list of the best fresh dog food for picky eaters, it also matters how you change them over.
How to change your dog to a fresh food diet?
If your dog has suddenly become a fussy eater, it's important you take them to the vet to rule out any underlying health concerns. It's also worth talking to your vet or dog nutritionist before changing your pup's diet.
Whenever you change your dog's food (whether to fresh or just another brand) it should be done slowly. This is especially the case with picky eaters.
It's recommended that you start by mixing 75% of the old food with 25% of the new food for 3 days. Monitor your pet to see if they're eating enough and whether they have any stomach upsets. If everything is OK, you can move on to 50% and 50% for a further 3 days. If they seem to be enjoying the food, mix 25% of the old food in with 75% of the new food. You should then be able to feed them 100% new food. 
It's important not to rush them as this might put them off the new pet food altogether! Changing food consistency too quickly can also lead to diarrhea and other stomach problems.
Luckily, some of the best fresh food brands offer topper plans or mix-in extras that allow you to transition your picky dog without committing to a subscription. 
Best fresh dog food for picky eaters
There are a lot of great fresh dog food brands out there that offer flexible meal plans and food that's specifically designed for picky eaters.
Ollie Dog Food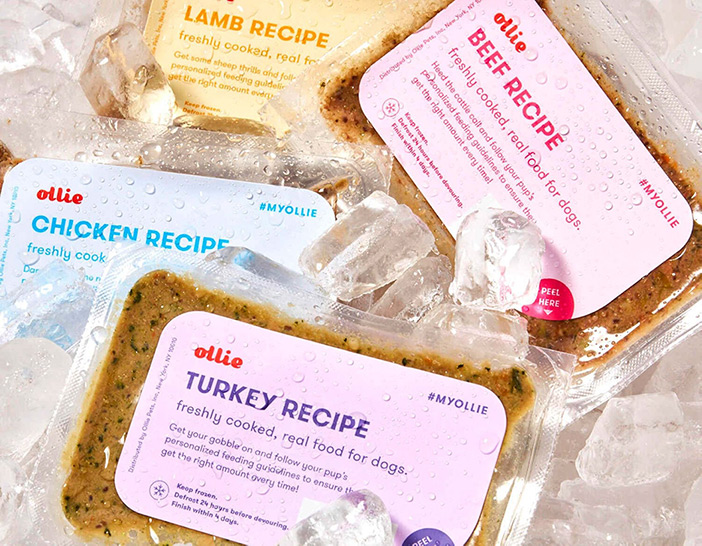 Ollie is a really popular fresh dog food delivery company. They make hearty, nutritious, meals that dogs love! They contain no by-products or unnecessary fillers which could irritate your pup's tum or put off picky eaters.
All their meals (beef, chicken, turkey, and lamb) contain quality cuts of meat, fresh fruits and veggies, and some herbs for added flavor. 
Something which many fussy eaters like (and pet parents too!) is that Ollie dog food isn't as slimy or 'wet food-like' as some other brands. The consistency is good for dogs that are not used to eating fresh meals.
Ollie also sends a really helpful booklet about the best way to change over your dog's diet. They pay particular attention to picky eaters and those with sensitive stomachs.
FreshPet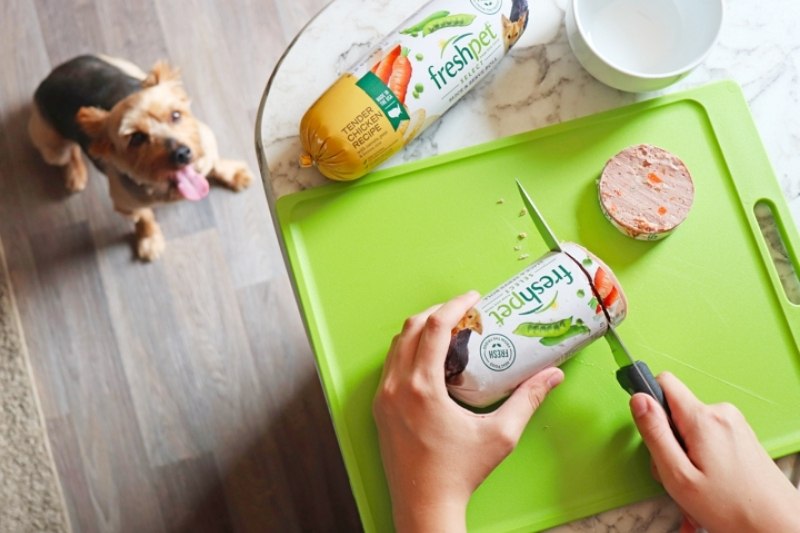 Unlike some others on the list, FreshPet can be found in your local store. It's a great option for picky eaters for a number of reasons, the first being that they do a fresh kibble-style food.
This is a really good way of introducing fussy eaters to fresh food without changing the consistency of the food (much). If your dog has only ever eaten kibble, putting a plate of beef in front of them with spinach and blueberries is going to be a bit difficult!
FreshPet also offers a number of different flavors (and a few more textures)! The variety of FreshPet and the options to choose from are really what set them apart. Other fresh food brands may be more premium (and therefore more expensive too) but FreshPet can cater to a number of different allergies or dislikes.
Spot and Tango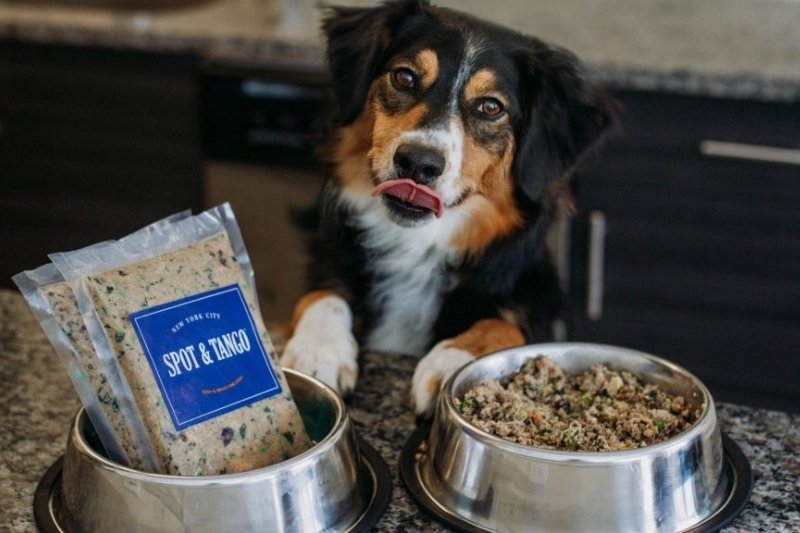 Spot and Tango is another great option for dogs that are used to kibble. They're a more premium brand than FreshPet and are also a subscription-based company that delivers straight to your door.
Their Unkibble comes in 3 different flavors (duck and salmon, chicken, and beef) and is well balanced and portioned to your dog's specific needs to help with weight management. Unlike other fresh food, their Unkibble doesn't need to be refrigerated or frozen which is a big bonus for many dog owners.
They also offer traditional fresh food if your picky eater prefers a bit more moisture. They're all cooked in small batches to preserve the nutritional value and contain no added extras.
Nom Nom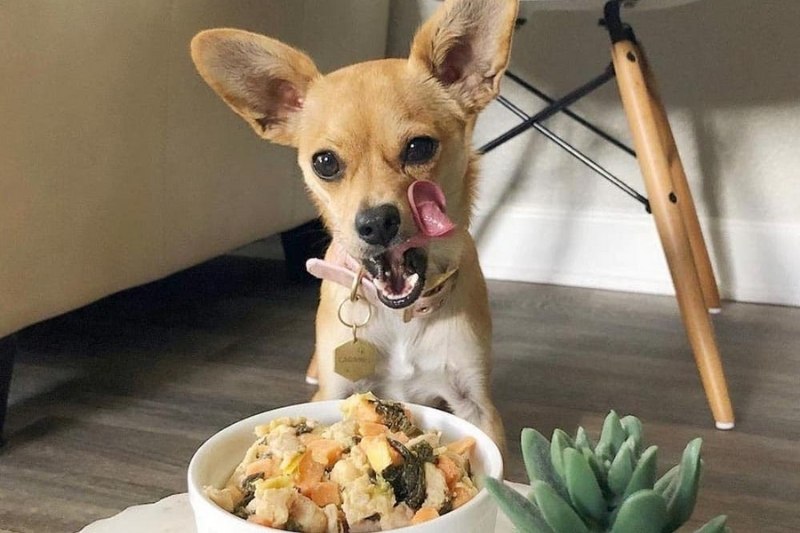 Something many dog owners don't want to do is commit to a food subscription company without knowing 100% if their dog likes the food. This is especially true with picky eaters.
Nom Nom, however, offers a tasting pack which is a great way for your pup to try all four meals before you put in an order. You get beef, chicken, pork, and turkey to see which one they like best or you can order all four!
For larger dogs, Nom Nom also offers partial meal plans which is a great way for you to mix in fresh food with your pup's regular meals.
All of the ingredients in Nom Nom's food are well-sourced, human-grade, and slowly cooked to seal in all the best bits. As with other fresh food brands, you have to fill out a quick questionnaire about your pup so they can recommend which of their meals is best suited to their size, weight, age, and activity levels.
The Farmer's Dog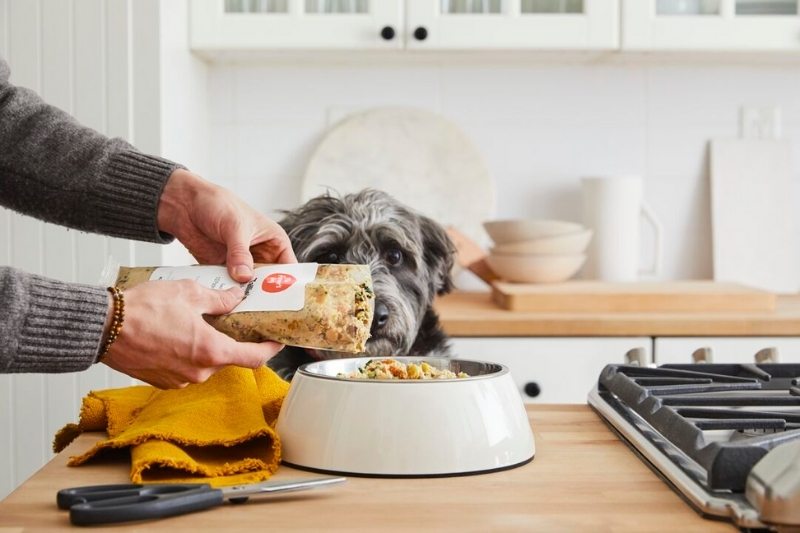 The Farmer's Dog is a great online food delivery service that provides USDA kitchen-prepared food for your pup. They use human-grade meat and veggies in simple recipes that are created by vets to serve your doggo a well-balanced meal.
All the ingredients are clearly listed on the label so you know exactly what you're feeding your pet. They even send it with your dog's name on and exactly how much you should be feeding them!
The Farmer's Dog also offers a topper plan which is great for picky eaters. You can order smaller quantities which you can mix in with other food.
This adds a bit more nutrition but disguises any textures that your dog might not be happy with! It also saves you from ordering big quantities which your furry friend might not like.
Conclusion
Changing your pup over to fresh dog food might seem like a difficult thing, but there are actually loads of brands out there that offer good options. Some deliver kibble-like fresh food that's great if your dog is fussy about textures, others offer topper plans to mix with regular food, and some are just so delicious no pup would be able to resist them!
Do you have a fussy eater? Have you tried them on fresh food? Do you have any advice for other owners?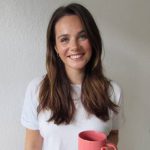 I'm Charlotte, a content and copywriter from the North of England and currently living in Berlin. Animals have always been a huge part of my life, so writing about dogs is a total pleasure! I love all kinds of dogs and their cheeky personalities, but I'd have to say Weimaraners are my favourite!